Our Madrasah
Overview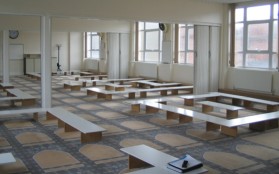 At Hendon Mosque, we provide Madrasah according to the syllabus summarised below and we teach boys and girls seperately. All students participate in annual examinations.
Timings
Our Madrasah operates during the following times:
| | | |
| --- | --- | --- |
| Weekdays | 17:00 – 19:00 | Year 2 – 8 |
| Saturday | 09:45 – 12:30 | Year 9 – 18+ |
Madrasah is closed during Islamic Festivals, Bank Holidays and allocated holidays during the year.
Admissions
The admission age for weekday classes is 6yrs, whilst the admission age for Saturday classes is 11yrs.
Subject to availability, new admissions take place in September – please bring the child's birth certificate and a recent copy of his school report.
Syllabus
In the first year of studies, children are taught how to make wudhu as well as the basic rules of tajweed.
As they progress through each year, they steadily complete the recitation of the Holy Qur'an with basic tajweed in addition to memorising the final Juz of the Holy Qur'an.
They receiving progressive lessons on basic fiqh and are taught about the importance/performance of Salah. They also memorise various dua's which are required in the daily life of a Muslim.
Fees
Please enquire at the Madrasah office for details of current fees.
Uniform and Behaviour
Boys must wear a cap, kamees and izaar or plain trousers whilst girls must wear a hijab, loose dress and izaar.
All books must be kept in good condition and students must have the necessary stationary.
The consumption of sweets and the use of mobile phones are not permitted during madrasa time.
Misconduct
All students must observe the discipline of madrasa. Improper conduct, bad behaviour or misuse of mosque euipment will not be tolerated and will result in the following:
A verbal warning
A written warning
Suspension.
Any gross misconduct will lead to immediate suspension and can lead to expulsion.
Absenteeism
A note or phone call is required for any absence.
Written notification must be provided one week in advance of any pre-arranged absence (e.g. holidays, hospital treatments etc.)
Students that are absent for 3 days continuously ina month without notification will be suspended for that month.
Students that are absent for more than 2 weeks without prior written notification will be expelled and will have to re-apply.
Written notification is required for any pupil wishing to be excused from lessons early.
Written notification is required for any pupil that wishes to leave madrasa.
Other Parental Responsibilities
Parents must ensure that their children are brought and collected on time. (Please park cars considerately)
Parents must ensure that cleanliness is maintained (i.e. uniform, nails, socks etc.)
Parents must check their children's homework every night to ensure that they are keeping up.
Parents must check their children's madrasa bag for letters, receipts etc.
Parents must attend all parents' evenings.
All queries must be reported to the principal by appointment on Tuesdays between 17:00 – 18:30.
Please email info@hendonmadrasah.co.uk for further queries.